Mural
A mural can change the life and feel of a space. It can give an office without a window a view. It can give a child's room a place to adventure in there minds as they look on a sunken pirate ship or look down on earth from a space station or the lunar surface. A mural can even let you dine on the African savanna.
So you might ask, "why a mural instead of a painting I can take with me?" I have two answers to that; one is that a painting on the wall doesn't give you the full emersion effect that a mural can, and two is that if you like a mural can be painted on panels or a large canvas to that it can be taken down and taken with you. In fact you can even have multiple murals for different seasons in the same place, interchangeable in a set framework. it is even possible to create a mural on hinged panels to create a screen to divide a room.
Below are a few examples or work I have done but are not a limit to what I can do. If you have any interest or questions I'm always happy to help out, just contact me using the form at the bottom of the page.
Calvary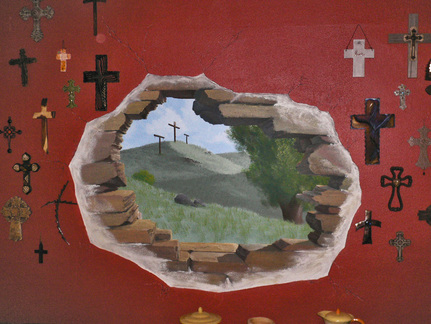 This client has a collection of crosses in there dinning room so I worked out this idea with them of a hole in the wall looking out on Calvary. The finished piece was a little over 8 feet wide.
---
under sea pool
Ducks to a Pond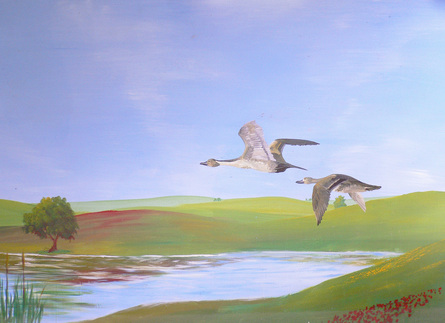 This mural is painted on a 4 x 8 foot panel so it can be moved or changed and then changed back again.
---
a baby's room
This was painted for a baby's room, from chair rail height up it is painted all the way around the room. I was told later that there little girl would stand in her crib and stare at the walls for hours, perhaps waiting for whoever she thought lived in that little tree to show up. Certainly the kind of environment to encourage the imagination to develop
a Gothic Arched Window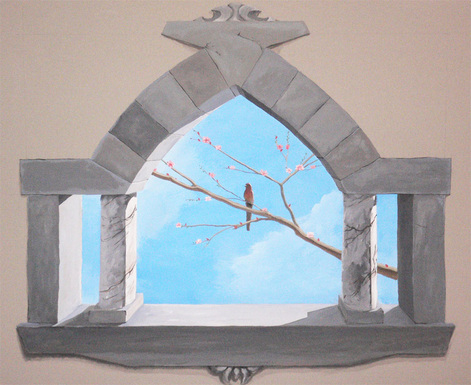 This is simply a robin, perched on a branch with cherry blossoms as seen through a gothic arched window. Only 4 feet across it is small but still has impact for the room. it gave this room a more classical look and a calming feel.
---
a Touch of Fantasy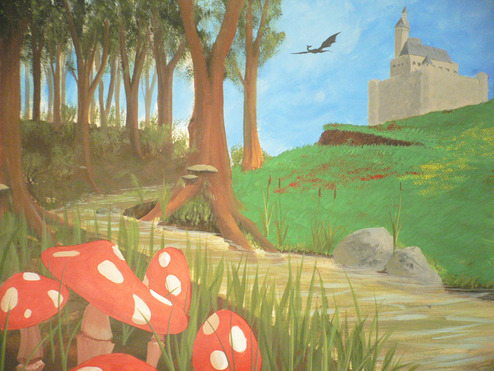 This one was painted for a youth who just liked the Medieval, and fantasy genre of books and wanted something his imaginings could wander through.
---
Vase in Niche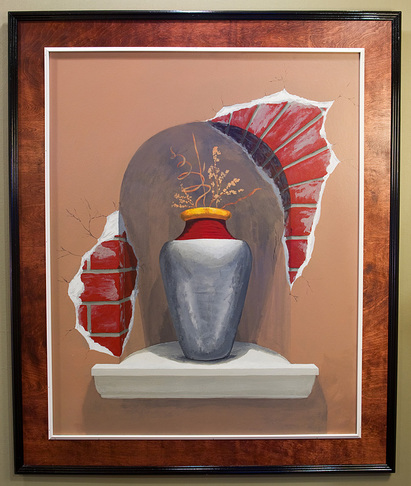 This was painted on a 4 foot panel, a simple decorative addition for a room. The client later requested it be mounted and framed as they were changing the color of there walls.
---